I know I've been MIA for a bit, but I've been sort of scrambling around recently, trying to get a lot of things done.
As you guys know, I'm doing The Great TBR Challenge, which is basically me naming something so I'll feel more like I should do it. Not that I don't love reading. I just have a lot of hobbies and I'm indecisive, so I can never pick what to do. Basically, I end up on twitter. Hah.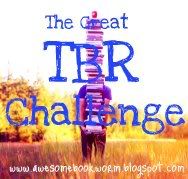 So, for my Challenge, here is my progress.
Books read:
2 (Miss Peregrine's Home for Peculiar Children & Darkness Becomes Her.)
Next book you plan on reading:
Wither by Lauren DeStefano
Books until you finish cycle:
3
Books Bought:
None!
Books won/received:
City of Fallen Angels & All These Things I've Done.
Comments:
A little bit sad that I'm not further in this. Will touch on that in my review for one of the books I read. But, overall, I'm okay. At least I'm reading something and making some progress.
What're you reading!