Upon doing my Top Ten Tuesday yesterday, I realized that I am really, really behind on reading some great books. Well, books that everyone else thinks are great.
I have a lot of books. Not nearly as much as some in this community, but certainly more than the average teenager. But I haven't read a lot of them.
And that bugs me.
I don't know how familiar any of you are with the youtube makeup community, because I'm really not that familiar with it myself, but a few days ago I stumbled upon something a lot of the girls do in order to use up makeup before it expires. Project Ten Pan.
As I'm sure a lot of you can guess, they don't buy more makeup until they finish using ten things. And that gave me the inspiration to do this.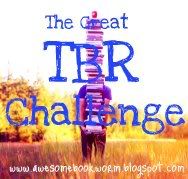 This is, right now, for me. I don't mind people trying it out for themselves, but I'm not making it an event. I feel like managing something like that is only going to keep me from reading the books I want, and need, to finish in order to get to my five.
Yes, I said five.
I'm in school and have more things to do than read, as much as I'd like to just read. So five. I'm going to try and read five books before I can buy more.
It's somewhat like a book buying ban, though that just sounds scary and so, I'm doing these in cycles. If I want to start it up again, I will. We'll see how smoothly this goes the first time.
So, here goes. Five books from my TBR pile until I get anything else.
Rules (for myself and others):
You must finish five average-sized (or larger) books. Avoiding reading books that are much, much shorter. It's not fair to yourself if you're going to read tiny books to get closer to five.
Don't buy new books until you get to five!
Receiving books (gifts, RAKs, prizes, ARCs, etc.) is still okay as long as you are not paying for them.
eBooks are acceptable, so longs as they apply to the above rules.
Read books you already own. Buying them just defeats the purpose.
(Newly checked out) Library books are discouraged, but not banned.
You're allowed 3 emergency buys (books you've been DYING to get and now have the opportunity to get) per cycle.
You are allowed to buy books that aren't for you (gifts, prizes, RAKs.).
These are mainly for me, since, as I'm typing this now, no one else even knows about this and I have no clue if anyone would even want to join, but, if you want to join, you can. Just follow the rules. I'll include a code for the button if anyone wants it, just in case.
Here's to getting some books read. Good luck.